Live Civilly Youth Volunteer Initiatives Have Real Life Impact!
By, Toni Farmer, Live Civilly Garden Coordinator
"Who wants a lettuce seed?" I ask.
"Me!" returns a chorus of voices along with twenty-four outstretched little hands, all vying to be the first to receive the tiny treasure.  These hands belong to the students of Mrs. Kelly's 4th grade class at the Upper Elementary School (UES) in Moorestown, NJ where Live Civilly installed a new school garden with the help of Home Depot.  These bright and inquisitive youngsters are not learning about seeds and plants in the classroom from a textbook.  The new garden now fills up a portion of an unused courtyard in the school building, which means these lessons can be grasped creatively through hands-on, experiential learning.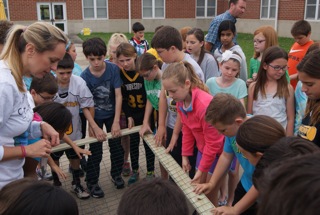 But connecting to the existing science curriculum in Moorestown Schools was not the only purpose behind the establishment of the UES/Live Civilly Garden.  Providing young people with the opportunity to engage in real world, hands on volunteer opportunities is the primary focus of all of Live Civilly's efforts.  From providing volunteerism in local food pantries, to peer tutoring and garden building, Live Civilly wants our youngest, most energetic citizens to engage in opportunities to help their communities.
The UES/Live Civilly Garden has provided amazing opportunities in areas of service and education.  Photosynthesis was not a diagram in a book during the 2013-14 school year for Mrs. Kelly and Mr. O'Brien's classes.  Rather photosynthesis became a first-hand observation made as students transferred seedlings they had started indoors in March into the outdoor garden space.  They observed first-hand how seedlings deprived of proper sunlight indoors suddenly thrived in their new home, developing the deep green color by converting energy into sunlight.
Additionally, children who have been studying weather patterns since Kindergarten finally applied that information in a meaningful way.  Rain is only rain until you have a garden to care for, and then it becomes a means to produce a healthy crop of lettuce, tomatoes, pumpkins, and beans.  Lessons on nutrition, math, history and language followed as the children ate from the garden, calculated the volume of dirt in the beds, planted according to Native American traditions, and wrote about all of it.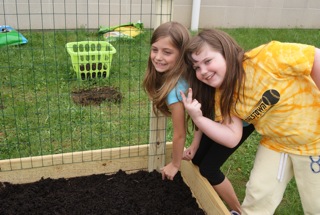 For Live Civilly, one of the most significant contributions from the garden has been the opportunity for young people to give back to the community by caring for the garden and donating the produce to local food pantries.  While most children would do anything to avoid going to school in the summertime, many children from Mrs. Kelly's class and other classes volunteered to return to the UES over the hot summer months to water and care for the garden as well as harvest vegetables for those who can not afford fresh produce.  This summer, the inaugural year at the UES, over 100 lbs of produce were delivered to local food pantries for distribution.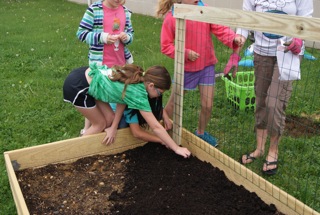 The response to the UES Live Civilly Garden has been so positive that plans for a "Phase II" expansion are already underway.  As a part of the K-12 connective STEM development, new garden beds were installed at Moorestown High School on September 20 in a project initiated by a student group and supported by Live Civilly. The hope is that gardens will eventually be a part of the curriculum at every school in town.  While the opportunity exists to make learning an exciting, out-of-the-classroom experience, Live Civilly's goal is to introduce our youngest citizens to the notion that sharing the bounty of the garden with those in need may be the greatest lesson of all.
For more information about the Live Civilly Community Supported Gardens or other youth volunteer opportunities, visit www.livecivilly.org and sign up for our blog.   Watch for sign ups and information about local service opportunities for youth and families!